Are you searching for potential selling ideas for this spring? Do not miss out on St. Patrick's Day. To help you get the most of this special day, this article will show you not only the meaning of this day but also some useful ways of increasing your sales.
1. The meaning of St. Patrick's Day
1. The meaning of St. Patrick's Day
St. Patrick's Day is held on 17 March to honor St. Patrick. He is known as Ireland's primary patron saint and the one who preached Christianity to this country.
Legend has it that when preaching, St. Patrick often used shamrocks to explain the meaning of the Trinity. This is why "green" and "shamrocks" became the particular features of St. Patrick's Day around the world. This holiday takes place not only in Ireland but also in Britain, Canada, the United States, Argentina, Australia, and New Zealand.
2. Top selling products for St. Patrick's Day
2. Top selling products for St. Patrick's Day
According to the NRF report in 2020, consumers spend 30% of their expenditure on clothing and jewelry. Besides, decorations also make up 24% of their spending. With the above numbers, refer to the hot products list of Saint Patrick's Day 2021!
3. Creative St. Patrick's Day design ideas
3. Creative St. Patrick's Day design ideas
"Green" for everything
Due to being attached to the story of St. Patrick, green is the dominant color of this day. You should take advantage of this special feature and fill your impressive designs with green color. Additionally, you can also carry out some special promotions for this holiday. One suggestion for you is free shipping for green color products.
Shamrocks
Shamrocks is regarded as a symbol of St. Patrick's Day which represents belief, hope, and the prosperity of Ireland. It is believed that St. Patrick used this shamrock to explain the Trinity (Father, Son, and Holy Spirit) when preaching Christianity. 
Leprechaun
Leprechaun is an important part of Irish folklore. They are mischievous goblins who must grant three wishes to be freed when being captured by a human. 
Beer
As for Irish people, St. Patrick's Day is the gathering day to meet friends and make some feasts. During these days, people often go to bars or have a party at home with traditional dishes. Especially, beer plays an indispensable role in this day.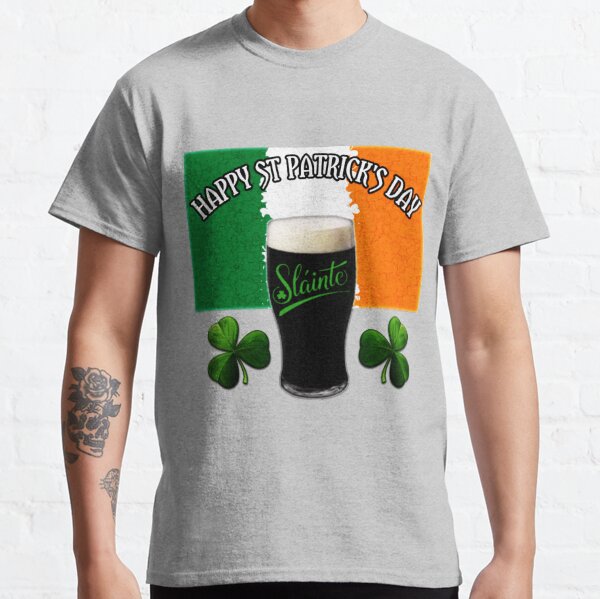 Irish people living in America
Although Irish people emigrated to different countries around the world, their communities still settle down in the USA. Therefore, St. Patrick's Day celebrations had widely spread throughout the USA.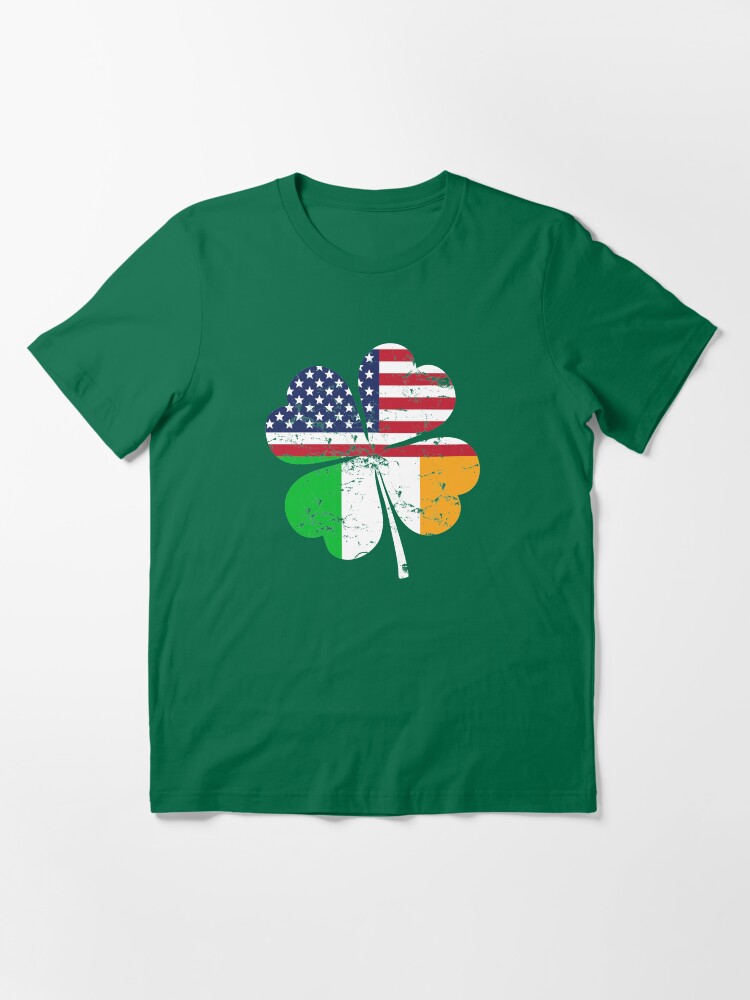 Irish people's pride
"I'm Irish" has become one of the most common keywords on St. Patrick's Day. Besides, there are many interesting designs for people who are not Irish but still want to celebrate this festival.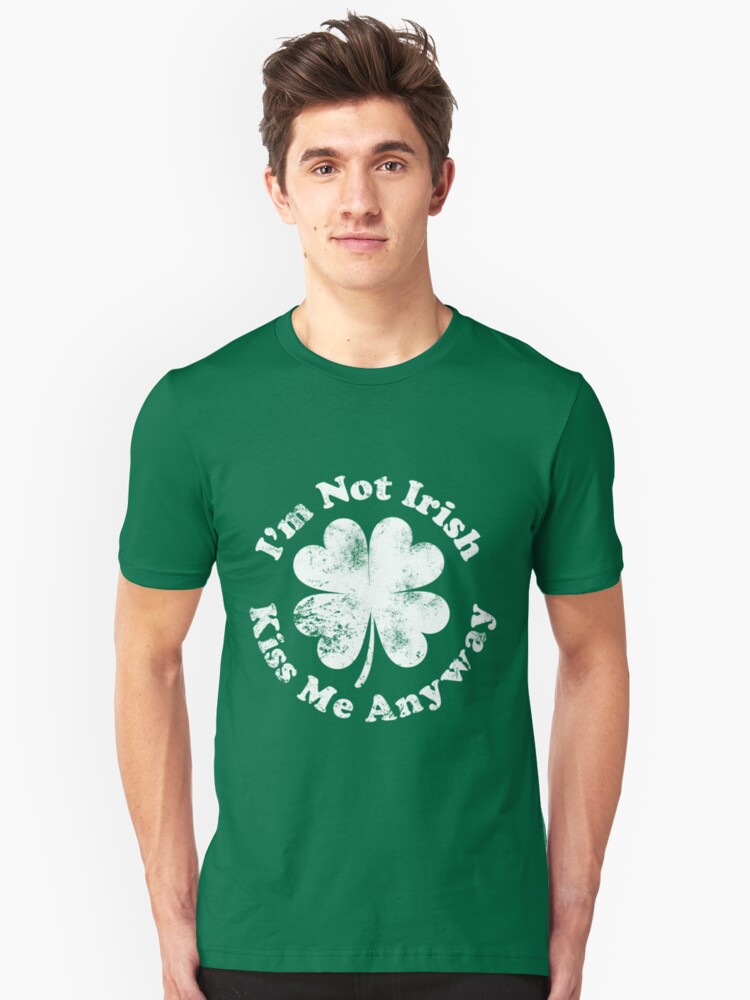 Get the funniest quotes
During St. Patrick's Day, parades and masquerade parties are filled with funny mischief, tricks, disguise, and creative clothing. Therefore, unique designs and funny quotes will keep your customers excited about this holiday. Here are some funny quotes that can inspire your designs.
Keep calm and leprechaun.

Take a pitcher. It'll last longer.

Perfect for a shamrock night

The leprechauns made me do it.

You're my lucky charm.

Irish you a happy St. Patrick's day!

Don't worry, beer is happy.

Irish today, hungover tomorrow.

I kissed a leprechaun and I liked it.

Can't think of a better way to March into Spring.
4. Several useful marketing tips for St. Patrick's Day
4. Several useful marketing tips for St. Patrick's Day
Use an appealing call to action (CTA)
Attractive call-to-actions are great opportunities to motivate your audience to take the next steps toward being your customer. You want to push your audience to experience your products, let's jot down some ideas below!
Come for the shenanigans, stay for the St. Patrick's Day sale!

We will, we will shamrock you! Check out our latest release!

Get lucky. These St. Patrick's Day savings won't be around forever.

It's your lucky day! Save with our St. Patrick's Day promo!

Save some green with our St. Patrick's day sales event!

Get your shamrock on with this St. Patrick's Day tee!

Shop our best St. Patrick's Day sale yet – no luck needed!

Grab our latest St. Patrick's Day tee. Your friends will be green with envy

You won't need the luck of the Irish to shop this sale, but you do need to hurry!
Provide "good reasons" to shop
Along with implementing some promotional campaigns, customers will feel excited when they can both save money and help protect the environment. It also shows that you're doing well with your social responsibility.
Moreover, you can encourage customers to start "thinking green" as a great way to celebrate this day. You can push some friendly-environmentally product lines such as eco straws, reusable bags or donate a portion of your revenue to the environmental organizations. By doing these actions, you do not only keep your green campaign consistent with this festival but also give customers more good reasons to buy your products.  
Giveaway gifts for the lucky ones
Create a "sweet surprise" for your customers, why not?
Plan online events (for example, the 100th visitor wins attractive prizes.)

Solve your St. Patrick's Day puzzles or online quizzes to get special vouchers or coupons.

Launch personalized email campaigns in which each customer receives an attractive gift or discount.
There are many interesting ideas for St. Patrick's Day for you to make the move. All you need to do is to cover a green theme for your ideas. We hope this article will help to maximize your sales in this upcoming St. Patrick's Day.